Twice Album: Formula of Love: O+T=<3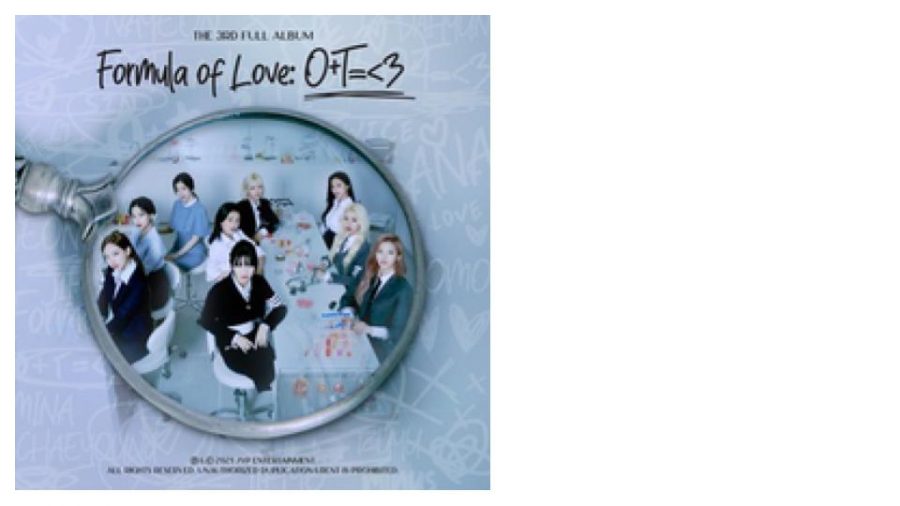 Twice released a new album on November 12th of this year called Formula of Love: O+T=<3.
The O+T=<3 in the album name stands for 'Once + Twice.' Once is the fandom name of the group Twice saying that Twice made this album for Once. The album is their 3rd full-length album reaching one billboard when it came out, helping them reach higher audiences.
"It's the fact that conceptually, musically, and lyrically, TWICE have been laying the foundation for 'Formula Of Love: O+T=˂3' for years. Even a cursory look at their oeuvre reveals it: no other act in Twice has written a lot of music that has blown up like title tracks such as 'Cheer Up', 'Likey', and 'What is Love?' Each song talks about falling in and out of love and experiencing heartbreak and feeling better afterward. Their new album explains their constant find for love is no longer needed and there's no point in trying to look for answers.
"You think too much, that's your problem. Being stuck in your head will do no good. Quit wasting time measuring angles, finding answers. Better make a move, Love ain't a science. Don't need no license, The more you sit there thinking, it's a minus" – Twice lyrics.
Twice is becoming more popular and rising. Their music can be related to by teens who think love is what you need to be yourself. "I know, love, it is such a funny thing. A mystery allure. Gotta get to know you more" – "The Feels" by Twice.
Sources:
Twice. "Scientist." m/V. YouTube. (2021, November 11). Retrieved December 13, 2021, from https://youtu.be/vPwaXytZcgI.