Spotlight: Mr. Corpuz
Here at LVA we all know everyone has their own special talents, but we often forget the people who teach these incredible students. One of those many teachers is Mr. Corpuz.
Mr. Corpuz is a new face at LVA as a part of the staff but he has been intertwined with LVA for a while now, working with different parts of the music department in his free time.
Mr. Corpuz has only been teaching at LVA for two years, but he has already made many memories with his students. One of them began online; Diego Chavez remembers, "In online school, he was my guidance teacher. And he would basically just ask me if I was okay because everyone hated online school. And he seemed pretty worried. That was pretty much my first actual encounter with him."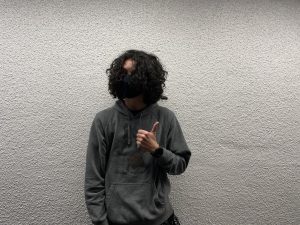 We asked Mr. Corpuz what he liked to do outside of school. He said, "I'm pretty active. I do a lot of rock climbing. I play golf. I do some cycling, working out anything that involves, like, going outside or physical activities like I love doing." His favorite activity is rock climbing.
He continues to make memories with students. This year Viviana Delgado describes her strongest memory from Mr. Corpuz's class; "He always makes these jokes about weekdays, where he [says] "it's freaky Friday or wacky Wednesday" and one day he asked us what Thursday could be and I said taco Tuesday. So ever since then, ever since I said taco Tuesday on a Thursday he always calls me taco Tuesday."
Even during show times, he's able to make good memories. " Well, for the winter piano concert, I dressed up as Santa Claus. And I yelled, ho, ho, ho, down the aisles. I gave Charlie Brown a Snoopy present and then I played a little red piano during the concert and I was wearing sunglasses," Diego Chavez remembers.
We asked Diego and Viviana to describe him in three words, one consistent word is "funny." He's also described as" intelligent," "outgoing," and "generous." Most students feel they are able to connect with him easier with being able to joke about things younger people understand. They also feel they are able to communicate well with him.
When we asked Mr. Corpuz what is something he wishes students knew he said, "I'm pretty open with them. I don't think there's one thing in particular. They know that I'm a pretty avid gamer. We talked about video games a lot. We're starting to play some video game music in our next concert. So should be a fun little experience."
I have personally had the pleasure of working with Mr. Corpuz in the past before he became an official teacher here at LVA. He worked and still works closely with the choir department and is good friends with Mrs. Cota and Mrs. Franke. I remember in choir, whenever Mr. Corpuz would come in to play the accompaniment for our choir pieces, everyone got excited, because we know that he is going to play beautifully and he truly gets everyone eager to perform our set because of how amazing it sounds when we put the entire song together. Not only is he an incredible pianist, but he is also a very kind person with a fun personality. As a teacher, he understands how to be fun and lively while being strict and how to get work done efficiently. He is overall an incredible teacher and we are more than happy to have him as a part of the LVA family.