Breaking News: Dua Lipa Retiring?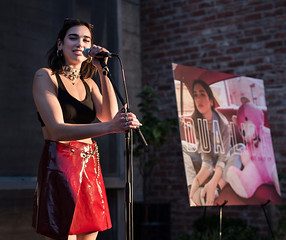 Dua Lipa has just supposedly announced that she will be retiring after this season of tours. Dua was doing a "73 questions with Dua Lipa" video with Vogue and said, "I have decided to take a break from this life of fame and work on different projects." An ex-editor of Vogue released the video on a streaming service at 12:34 am, but social media hasn't had time to process the information. Dua Lipa made history in March 2021 with her song "Levitating" being the longest-charting Billboard Hot 100 hit ever among women. So, it was shocking to hear this news because she is such a new artist. She also said in the video that "all the fame came so fast that I've gotten very overwhelmed. I think it's best for me to take a break and focus on myself and further my career with other businesses." Dua will continue to finish her tours of 2022, but she did say we might see her collaborating with certain designers and maybe something else.
Fans are now starting a petition and begging Dua Lipa to stay in the music industry. Fans are saying "summer won't be the same without Dua's music" and "Not Dua dropping bangers for 2 years straight then just leaving us."
It will be a very hard transition in the music industry as Dua leaves as she has worked with so many big artists such as Megan thee Stallion, Elton John, Doja Cat, DaBaby, Calvin Harris, and Miguel. We will see what artist speaks about Dua's announcement. For now, we will expect Dua to stop making music by November 16 of 2022.
**Update: Confused? Check the date of publication.**