The Oscars 2022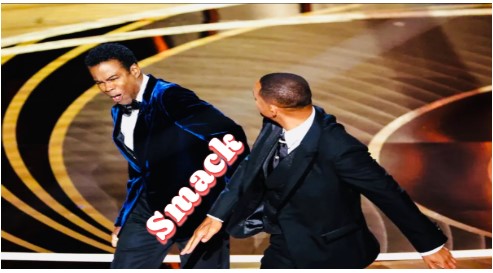 April 3 was the 2022 Oscars and it was definitely a show. Some people won awards, some wore amazing outfits, and some made tasteless jokes that got them smacked across the face. Chris Rock, an actor/comedian, was announcing the candidates for Best Documentary Feature and decided to start a comedic dialogue. In his dialogue, he mentioned Jada Pinkett-Smith, the wife of Will Smith. Rock made a joke about Pickett-Smith's appearance as she shaved her head on account of her alopecia. Will Smith was outraged and made his way up to the stage, and while the crowd laughed, he walked right up to Rock and smacked him across the face. After the assault, he went back to his seat and screamed at Rock from the audience. Smith later went on to win the Oscar for best actor.
Although Chris Rock's joke was severely inappropriate, he should not have been assaulted because of it, and Will Smith should not have been able to sit back down and be a part of the ceremony after it. This was a very childish moment that won't soon be forgotten. On March 28, 2022, we found that Rock did not decide to press charges against Smith for the assault. On the same day, Will Smith issued an apology on Twitter but this did not prevent him from suffering the consequences of his actions.
Smith even went an extra step forward to show how sincerely sorry he is by resigning from the Academy. During an interview, Smith said that when he was a child he watched his mother be abused, and therapists say that traumatized his brain causing it to react the way it did that night. Do you think that justifies his attack? Comment below.
CORRECTION: An earlier version reported the event as the Grammys. We regret this error.