Review: Doctor Strange into the Multiverse of Madness is Awesome!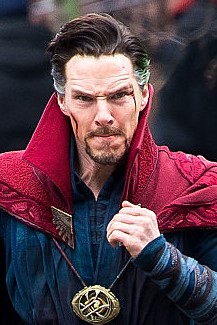 Released this year, Marvel's Doctor Strange into the Multiverse of Madness stars Benedict Cumberbatch as Doctor Strange, who, through a series of events, travels through the multiverse while on the run from the Scarlet Witch. If trailers turned you away from this movie, look again. This newest superhero movie presents shocking twists, wacky visuals, and heart-pounding moments that make this the craziest Marvel movie ever.
First off, the most significant part of this movie is Wanda, a.k.a the Scarlet Witch. After the mistakes in Westview, Wanda turns from a protagonist to a psychotic villain. The performance of Elizabeth Olsen is astounding as Wanda's rampage and character arc carry the film's unhinged and insane tone. It was incredibly jarring to see a character develop into a murderous villain throughout countless films. In addition to Wanda's deranged character, she also contributes to the most mind-blowing violence in any Marvel movie.
The gore of this movie makes it stand out. In the course of two hours, people are burned, crushed, exploded, and torn apart. Violence as insane as this displayed has never been adequately shown in Marvel movies before, but the movie does not shy away from how murderous Wanda truly is. This could be due to Sam Rami's history of directing horror films; the gore makes the film feel like a crazy dream and engages the audience.
Even though the intense moments and imagery of scenes with Wanda make this film a wild joyride, the film can't escape issues with its characters. Though a personal issue, Doctor Strange as a character was never that thrilling. He has very few defining characteristics, and his plotline in that the film didn't have a lot of emotional appeal compared to Wanda's. This goes the same for the newest character on the run from Wanda, America. During the movie, America travels to different multiverses with Doctor Strange while on the run from Wanda, and with that, America is easily the most unmemorable character. She could be called a plot device because she contributes nothing other than transporting characters. She'll be a more featured character later on, but for now, she's just another bright-eyed youngster. Honestly, every time the film switches from scenes with Wanda to Doctor Strange and America, it feels like a roadblock.
All in all, Doctor Strange into the Multiverse of Madness is a visually imaginative and jaw-dropping film. Anyone who loves the Marvel universe will have a fun time watching a film that gets crazier and crazier by the second. In a word, the movie embraces the madness.