Journalist of the month: Jules Pochowski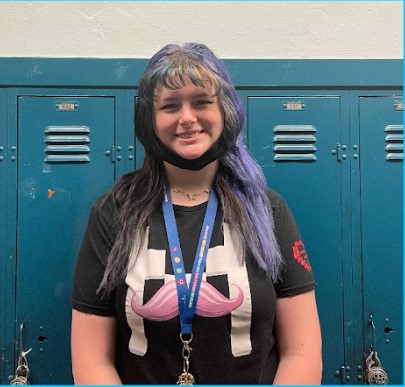 April's journalist of the month was Jules Pochowski. Jules is a senior animation major and is planning on going to CSN for two years after high school either for business or graphic design. Jules told me that her plans are to do online school next year because during quarantine she found out she liked online better and because she also wants to travel. 
In order to get journalist of the month, you have to get the most points out of everyone in the class; I asked her what she did to get 120 points and she explained that she had built a portfolio.
When asked to describe the process of building her portfolio which includes a variety of pieces from polls to teacher spotlights, she said that she compiled everything she had done through the year and put it together on a website. 
I asked what her favorite piece she had done was, and she answered that it was an article dissecting the "Don't Say Gay" bill, because she had analyzed the bill page by page and was very proud of it. Some of her other pieces include a review on the Netflix series Arcane, a video for the Arts journal, and several social media posts. 
Jules is also a feature editor for Accolades. I asked her about it and she responded that she enjoyed it because she really likes to help format stories to make them smoother.