The New Dress Code and the Changes it Makes for Students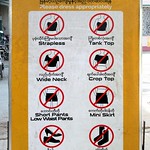 Temperatures here in Las Vegas are getting a little crazy. Here at Las Vegas Academy of the Arts (LVA), the staff and administrators hold us to a higher standard. This is a school with rich history and nationally recognized departments of education both within STEM and in the arts. Some people express themselves through their clothing, while others don't. To some, their expressions may be restricted due to the dress code itself. It may feel justified to some, but it also may be frustrating to others to potentially have their creativity dampened due to the latest restrictions. 
When Autumn Stark, junior, was asked what she would change about CCSD's new dress code policy, she said, "I think we should be able to wear shirts that show our belly buttons." After being asked further about her opinion about the new rules and how it affects her and people she knows, Stark said, "It's too strict. I think it sexualizes teen girls' bodies."
The response to the dress code in CCSD has been mixed, as many students have moderate or positive stances on the new rules, while others feel their freedom to express themselves is being restricted. People want their relative freedom within the laws of the state. When people's ability to express themselves is restricted, many may oppose it.
Jordan Weaver, freshman, after being asked about their opinions on the dress code, said, "It doesn't affect me that much. But it seems silly because they're still covering up if someone was wearing  high waisted jeans and a crop top, they're still covering up their body." When asked what they would change about the new dress code, they said, "I'd say I think as long as they're covered enough, I think there isn't really a problem."
CCSD has been continuously making efforts to establish a safer environment in their schools by countering potentially offensive clothing styles that might negatively impact the learning experience. Students tend to be against some of what would be interpreted as extreme. Since schools can define their own dress code-specific rules, the new implementation, requiring students to cover their belly buttons, has resulted in mixed stances. This is especially due to the intense weather, which causes people to choose to wear lighter clothing in response.