Key Club's Regional Training Conference
Last week LVA Key Club attended the Key Club International event Regional Training Conference (RTC) in person for the first time in years after its absence amidst the pandemic. RTC is an event where the Key Clubs of high schools throughout Las Vegas and Henderson (all divisions in D28 North) come together to go to workshops, cheer sessions, and get the opportunity to meet new people. The event was a significant success, and LVA made it into the region finalists of the spirit sessions. Senior Cole Reveche, Key Club President, attended the event online last year and in person this year.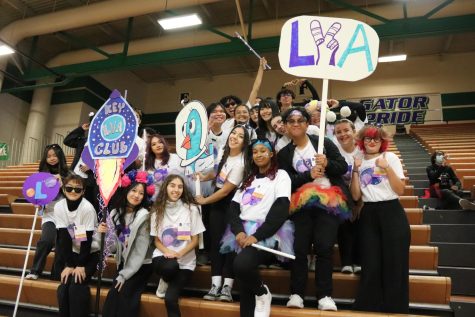 As with everything else, Key Club had its setbacks from the pandemic. The online RTC last year was on Google Meet and was only for workshops. Lots of excitement came from the event's return to in-person this year and the opportunities it offers. 
"In person, we go to do workshops, we got to do presentations, we got to do cheer sessions, we got to meet new people," Cole said
Having it in person gave students something to work towards and to look forward to. LVA Key Club worked hard to prepare for the event, with the process beginning in September. Leading up to the event, Key Club members who planned on attending RTC met after school for preps throughout October to make and practice their spirit cheers. The event gives students from different high schools the opportunity to learn from one another and bring what they know back to their club to build on. Workshops educate students on various topics, including leadership, fundraising opportunities, and life skills. The cheer sessions are a friendly competition that allows the clubs to embrace and show off their school spirit. 
"It is an important event for Key Club because Key Club is one of the largest organizations internationally. And we feel that it is important to remember to come together as a community," Cole said. "This helps us build on our four core values which are caring, character building, leadership, and inclusiveness."