Remembering for Mariachi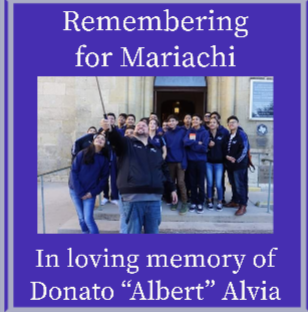 On October 25, 2022, the Clark County School District (CCSD) received the sad news that a CCSD Mariachi teacher Mr. Donato "Albert" Avila had passed away.  A teacher at Fremont Middle School, Mr. Avila was the reason mariachi music has spread throughout CCSD, according to various Las Vegas Academy (LVA) students who study this form of music. "He was an influential person who inspired many students and people, and his name should be remembered," said Jesus Ramirez, a senior mariachi major, who gives credit to Mr. Avila for the inspiration to play the trumpet. According to various current and former students, Mr. Avila wanted to spread the mariachi program throughout CCSD, and through his hard work, he has accomplished his goal, and students were able to find a passion for mariachi.
Responding to follow-up questions, Ramirez said this about how Mr. Avila had affected Ramirez's musical career, "Mr. Avila was a trumpet player and he inspired me to become one too. Without him, I wouldn't be here, because at first, I was gonna go to Valley [high school], but he was like, go to LVA." Ramirez said there were many special moments with Mr. Avila. "One of my favorite memories is in middle school. We were the first group to get straight 'ones' at festival that year. Even though we didn't place, we made him cry a bit for how good we did."Mr. Avila was inspirational, and his influence got some students to where they are today, and their careers and passions for music have grown. "At first, mariachi was just an elective for me," commented Ramirez. Relevant to the student's passion and love for music, which was encouraged by Mr. Avila, Jesus added "I wasn't going to continue it, but because he was really inspirational, I was like, 'You know what? I'm gonna just continue. It's fun, even though it might be kind of hard because truthfully, it's pretty difficult, but you gotta fight."
Carmen Larreyna, a junior mariachi major, who did not know Mr. Avila personally but he still had an influence on them. "I didn't know him since I'm not from Fremont. I had a teacher at my school, and he just reminds me a lot of my teachers," Larreyna said. When asked how music has impacted their career and how they view music because of their music teacher, Larreyna remarked, "It has impacted me a lot. It's changed my perspective on how I see music and like talent. I think it's impacted me in a very big and positive way." Their middle school teacher was also a big influence. "My middle school teacher did a lot for me, " said Larreyna, who then added, "Not only did he show me how to play, he showed me ideas, but different perspectives on music. And I don't know if he's done a lot for me since like I was in sixth grade." The impact teachers have on students is greater than they think, and for that, students have a person who has nurtured their love of music or even given music to them as an emotional outlet they never knew they had available. 
Mr. Donato "Albert" Avila was a beloved mentor, friend, and an inspiration across the community.  His work to spread mariachi music throughout the Clark County School District changed the direction of many students' lives, from Fremont Middle School's Mariachi Azul, to the CCSD Honor Mariachi.  Mr.Avila also worked hard as Mariachi Chair of the Nevada Music Educators Association, and a clinician at the Midwest Clinic. The legacy he leaves behind includes a Heart of Education award, which exemplifies what a light in the community he truly was. Though he is no longer with us, he will always be remembered for how his influence has affected so many students not only in the CCSD, but throughout the music community. He is gone, but will never be forgotten.