Underappreciation of the Visual Arts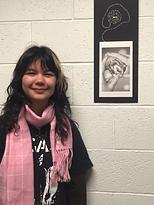 The Visual Arts department here at Las Vegas Academy (LVA) is full of many talented and unique individuals who work hard to create artistic masterpieces. The art conservatory and its students are a very valuable asset and contribute greatly to the community of LVA. However, there are concerns regarding the appreciation of this department.
Many of the students in this conservatory, including visual arts major Cyenna Nash, believe the visual arts department should be recognized for all they do and should have more opportunities to showcase their talent. Students are able to display their work in art galleries, but there is still a noticeable lack of appreciation for visual arts majors at LVA. "I think a lot of the galleries are overlooked and not a lot of people take time to actually look at art," Nash said. 
Though Nash and other visual arts majors believe their conservatory deserves more acknowledgment, they still value their experiences at LVA overall. "I've learned a lot," Nash said, "and I'm really glad I came here because it's a really good program."
Attending an LVA art gallery, admiring artwork in the visual arts building, or simply complimenting the work of a fellow art major can greatly impact LVA's art major community by showing respect and appreciation.