A Closer Look at LVA Basketball: Part 2
Although LVA doesn't hold official sports programs, basketball is still a frequent activity. For an art school, a lot of students can play. The math teacher, Ms. Clark, started a basketball club early this year in which students can come by after school and play basketball inside the gymnasium. Let's look at the upcoming tournament this month.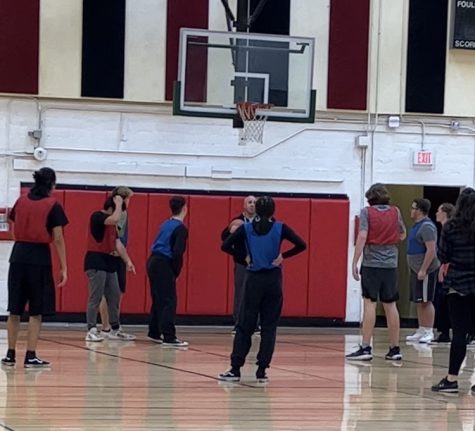 Basketball during lunch has expanded more for students. During lunch, the gym will be open to students for the next few weeks to watch the basketball tournament. The tournament holds 6 six teams with 6 rostered players. The prize for the winning team is donuts and Gatorade, increasing competition in the games. The first game was held on Thursday, February 2nd, 2023, resulting in a team "N.W.A." victory. The crowd was unlike others, as many students joined together and watched fellow students compete. Lucas Taber was asked about his feelings toward this game.
"I'm here to win so, I'm excited about the next game. I think we got some tough competition up head, but I think we got it." Lucas finished with 8 points, pulled in 2 rebounds, and dished out 6 assists. The next games will be on Tuesday and Wednesday, where the semi-finals will be held. 
Despite being an art school, sports at Las Vegas Academy are still very active for all students. This tournament will show how competitive students are through basketball. The next games will be on Tuesday, February 7th, and Wednesday, February 8th, and is encouraged for anyone to watch!