Costume Design II's ABC Dress Project
Over the past few weeks, the Costuming Department has been hard at work discovering new materials and techniques to use in their craft. Costume Design 2 began their final project of the year: The ABC Dress Project. The project entailed designing and creating a dress out of anything but fabric, ribbon, and yarn. Even with the unfamiliar task at hand, students Isabella Lewis, Akyra Cambrie, Brean Mae Obsuna, MK Randle, Ori Pahima, Olivia Breland, Juliette Thatcher, Bella Bakir, Saiyed Dastagir, and Janet Cruz were up to the challenge. 
To start, each of them sat down and came up with a plan for what they wanted to make their dress out of. "I did mine after a parrot because it was the first thing I ever made when I was little, it was a Halloween costume of a parrot, so I was like I might as well try it again," said Juliette Thatcher. "It was made out of paper and feathers and hula hoops," said Thatcher.  Other students had different motivations for this project. Ori Pahima, a senior Musical Theater major, is competing for a scholarship by making a dress completely out of duct tape. "I decided to do a duct tape dress due to a scholarship opportunity called Stuck at Prom in which the first grand prize gets 10,000 dollars," said Pahima. After much trial and error with the sticky tape, Pahima is finally seeing some incredible progress in his work. "I really love how it's starting to look. The wings are beautiful and I never expected it to look as good as it did, because I've been looking at all the other dresses from this scholarship, and they are big and they are beautiful." Once he'd seen what previous winners had done, Pahima made a goal for himself. "I knew I just had to step it up."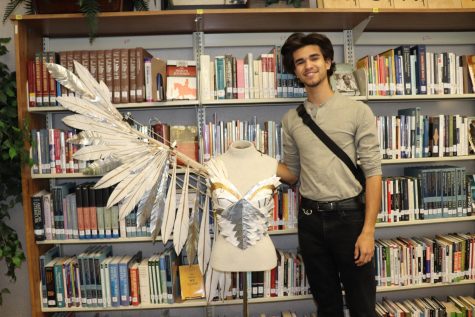 There were, of course, some ups and downs to the process. "I found that time management was very hard for the assignment because I would do everything very slowly like the weaving took so long," said Bella Bakir, who made her dress completely out of magazines. "I worked on the skirt in one night, and had to finish it in four hours," said Bakir. 
"The time and effort to use duct tape is insane," said Brean Mae Obsuna. "I'd have to make sure that it wouldn't stretch out or be too tight because it was almost too tight to fit into," said Obsuna.
Some got lucky enough to find some good quality materials for their projects. "I remember going around with my dad and going to places like Home Depot, Lowes, looking for some kind of construction paper that I could use, and then we stumbled across this couture shop, and I owe them a lot, but they gave me this little roll of patterning paper," said Saiyeda Dastagir. "It was made out of 404 flowers," said Dastagir. "I had to find a really strong base that could hold up all 400 flowers without flopping."