Upcoming Musicians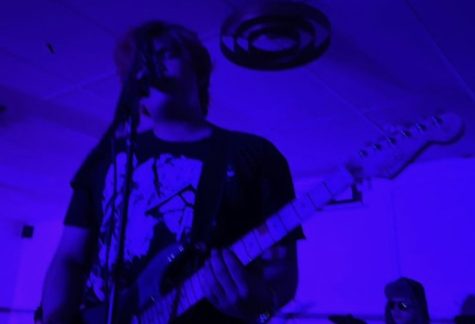 "I've always wanted to do music in some sort of way." That comment summarizes the musical life of Romeo Perez, a vocal major, who is now in his sophomore year at LVA.
 He has been making music since he was a little boy, he says. In the past three years, however, he is starting to take his music more seriously. In addition to his vocal studies, Perez is a member of two bands: 'Punker Than Your Mom', which he describes as, "very guitar heavy and just for fun. It's also more garage rock," he said. His other band, 'Migraine,' is, ". . . more hard rock and some may even say metal." Currently, Perez is working on several projects.
 "I'm recording a solo project with Ivan, the drummer of Migraine, recording the music that I wrote in middle school," he said. "And I'm working on a project with Migraine to write and record our first EP and then plug it in. 'Punker Than Your Mom' is working on an album right now,"  Perez added. We can expect to see these and other examples of Perez's work very soon.
 There are many aspects that are part of being a performer, and Perez highlighted some things most people don't know about. "There's a lot of preparation and hard work that goes into even just getting the show, especially in the local music scene. It's all about connections and talking to people. It took me a long time," said Perez.
 As time passed, Perez increased the number of his connections in the music industry. His experiences through the years that Perez has been performing and making music have, however, affected and changed him as a person. "When I was in seventh grade, I joined my first band," he said. "Ever since, I've known that this is what I want to spend the rest of my life doing." Perez added. "I've worked really hard to write and record, learn, and meet people; I've even gone to Nashville to meet with producers. I've gone to California many times to play shows. I've played shows in Nevada and California, and (many other) states. And I'm looking forward to working on it some more."
 For anyone who wants to become a musician or be in a band, Perez advises, ". . . just to really practice your instrument. Whatever it is, whether it's your voice, guitar, bass, drums, keyboard, just really practice it and then, start meeting people who want to do that, because my first band was actually just a group of my best friends. And that makes it a lot more fun. Just to start out because, we were all learning and practicing together. And we really enjoyed it. And then eventually we split up and joined to be bigger and go further.  It takes time, but it's worth it."
 Over the past years, he has been featured in many performances, "We played two or three sets at First Friday and played an early set," said Perez. "That was really fun, because a lot of my friends were there, and it was really cool to show my friends what I'm actually doing in person. And then we played a show the same night at like 11, and we were all super tired from the day, and we always put our all into our sets. I actually took a nap backstage and then, I got ready for our second show, and that was amazing because it was just a bunch of older people hanging out, and they loved all the covers that we played." Though he is a sophomore, Perez continues to work on growing his music, focusing on the day when performing is his career.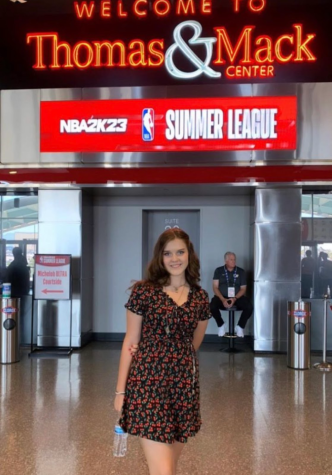 Sophia Cunningham, a freshman vocal major at LVA, has been performing since she was in middle school. Highlighting their list of performances will be the opportunity to sing the national anthem this summer for the National Basketball Association (NBA). After commenting about this NBA event, Cunningham stated that, "Creep" by Radiohead is their favorite song to perform, adding, "I relate to the song and I think if you have more emotion behind what you're saying, people like it." Currently, Cunningham is staying busy with gigs all around Nevada, as well as some planned performances more during the summer. When asked what might be their favorite performance memory, Cunningham responded, "The first performance I did right out of quarantine. I was so shy, and I messed up on stage, and I forgot all the lyrics. I like remembering that because it just shows how much I've grown." Since that performance, Cunningham has grown, not only as a person, but as a performer, as well. "I think performing on stage made me more confident with myself,"  remarked Cunningham about their performance's over the years, and how performing has affected them as a person.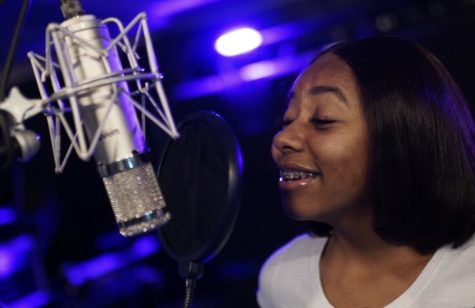 "I like how music is another form of expression," said Leya Dow, a junior vocal major at LVA. Dow has been singing since she was about two years old, but started to make her own music when she was ten years old. "I express how I'm feeling through a song and how people relate just by listening to it," said Dow. It is a part of her, and it is her way of expressing herself.
 She acknowledges that she is in the beginning of her career and says one of her goals for the future is to perform, ". . . in front of lots of people on stage," Dow said. "As I get older and work more, the number of people I perform for gets larger pretty quickly."   I think doing music has helped me communicate better with people through song; at first maybe people will get it if they listen to it, but at some point, people come up and talk to me about the things that I will be talking about in my songs."
 She has noticed that people talk to her about her music and how there are many people who relate to it. Through her many years of performing and singing, this is how she described her favorite memory, "Definitely writing with my dad, he loves encouraging me to do my music and write songs. I remember there's like a clip of me and my mom singing some random song I wrote, though it's not very good."
 Now that Dow is writing and producing her own music, this is one bit of advice she would give to someone who wants to produce or write their own music but doesn't know where to start. "You don't need professional equipment to start at first. You can literally just use your phone and bam, love a song in just a few minutes. Don't feel forced to have all your lyrics make sense, it's okay. If it's just words rhyming with each other that's how you build your songs up and make it into something."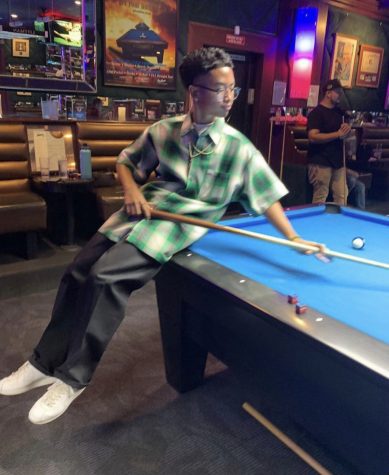 Jay Inoue, a senior vocal major at LVA,  has been making and performing music as a hobby for his whole life. He has been writing music and producing for the past five years, and along the way he has had inspirational people by his side throughout his life. When asked about all the music he has written, Inoue commented that his favorite song is "Don't Want My Love."  "It's such a high energy song," he said. "Even performing it, it's really hard. I'm not gonna lie, it's just such a high song and it's almost like the breaking point in my range. But because of that, it's also like my favorite song, because it's the most challenging, and it's just it's so satisfying to hit the end verse of the song; It's the breathy part of my range and I just love when artists use that breath in their songs, because there's just a crunch."
 Inoue has been writing and recording music for a while now. When asked to describe his favorite part of performing,  he said "It's a lot more than just learning a song and just going on stage and singing. You have to keep in mind where you're at, what your environment is, how you play to the audience. It takes a lot of time and effort outside of the performance and in the rehearsals. You really have to be dedicated, super dedicated and to be on performance." 
 Even the greats start off somewhere, and this is advice Inoue offers to someone who is just starting off with producing their music and doesn't know where to start, "YouTube is your best friend, YouTube. That's really where I learned how to mix, how to produce, how to record what equipment was really good for recording. And be kind to yourself. Let yourself write things that you might find corny. Just have fun with it. Don't be so in your head." 
 As time has gone by, Inoue has learned many things about himself while performing and has changed how he views himself as a person. "I love experimenting with things," he said. "Not just in music, but just in life in general. I like trying new things. I don't like to keep to the same routine every day. So just making music and trying out different genres, even going into rock music, I want to try out everything, because there's always something you can find in different things that you're gonna like, like even if it's just the smallest thing. You're gonna like something in everything you do." 
 For those who don't know, Jay Inoue goes by two names, Yvng Jin and Jay Inoue. This is what he said about himself and his alter ego, "Absolutely they are two different people. I've kind of made up to be the guy that Jay wants to be. I think Jay is more like, a chilled out, more reserved person and a little goofy. Yvng Jin is more of the guy that can step into a room and feel like it's his domain, and you feel his presence when he walks into a room."